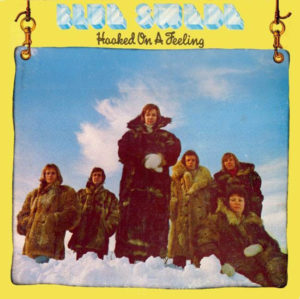 Music triggers memories and emotions.
Some are near universal in the emotion department.
Not always–personal experience can make the happiest song something that brings tears, and something oh-so-maudlin trigger giggles.
Sometimes the joy is in sharing the song with others. Other times it's just enjoying it all on your own.
But these prompts aren't about you or everyone…. they're about me.
A song that makes you happy
There are a lot of songs that make me smile. There are some that make me laugh. There are bunches that make me nostalgic in a good way.
I can't even remember some of them until they randomly come up. Then it's all "OMG! I LOVE THIS SONG! SQUEEEE!" (And, yes, sometimes there is, indeed a "squeee" involved… I am not ashamed.)
This particular one goes way back, but it recently came back big time thanks to a surprise hit of a movie.
From the first "ooga chaka" all the through the last bit of horns, Blue Swede's Hooked On a Feeling never fails to bring me joy from pretty much every direction.
It's a song that's just fun and bouncy, musically. Those bright horns cut right through any gloom that may be lingering. The silly bits in the lyrics (all those "ooga chakas") conjure memories of cartoons and Muppets.
And then there's the actual substance of the song: that sudden discovery that the person you dig, digs you right back.
Been there, done that, on both sides, and it is amazing.
This song brings back every good memory of all that.
Now, there's also the small fact that it was an integral part of one of my favorite Marvel movies, Guardians of the Galaxy, as part of the marketing campaign and in the movie as part of Starlord's "Awesome Mix" he got from his mom before she died.
Well, if that doesn't put a whole new level of nostalgia and joy into the song, nothing will.
It's the next best thing to a dancing baby Groot.
In short, this one's got it all and it recently got more than it had before. I can't not love it. And you'll usually find me singing along. (Because the words are simple, too.)
I'll also note that David Hasselhoff did a cover of this… but I'll let you find that yourself if you really want to. It adds a whole 'nother level of amusement, as only The Hoff can.
Runners Up