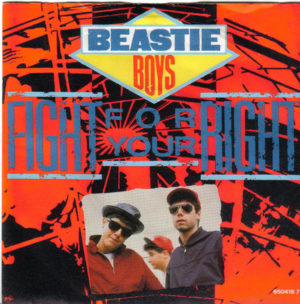 When I first glanced at this list, I thought, "Oh! That fifth one should be easy! Especially after that fourth one!"
And then I realized that my criteria for cranking a song is, more or less, if I recognize it or not.
So… that really didn't narrow things down much at all. Since, y'know, I'm not going to be listing songs I don't know here.
Which means I'm going to have to be a little more analytical about this one.
A song that needs to be played loud
Now, there's lots of music that's great loud. I've been out to enough concerts and clubs to be able to appreciate that. (I've got the tinnitus to prove it!) And there are definitely some music that, in and of itself is loud. (If it's already loud, does it need to be played loud?) And, thankfully, there's some music that really doesn't do well when cranked to eleven. (At least not for me.)
When I think back over all the music I can remember, there are a handful that literally just scream at me. They say "You believe in this! Let's shout it to the world!" (or, at least, "Dude! You know this rocks, turn. It. UP!")
I guess I'll just grab one of those semi-randomly.
The Beastie Boys' (You Gotta) Fight For Your Right (to Party) is one of those semi-modern classics. (Or is it an actual classic now… I'm pretty sure I've heard it on what passes for a classic rock station recently… crap, I'm getting old.) It's raucous, it's got a great hook, and, man, does it tug at those teen angst strings that were woven all around its target market back in the day. Okay, not just back in the day. Today, too. Some things never change.
There's anger at the hypocrisy of adults. There's the whole, "Screw this, I just don't wanna!" idea. There's the ultimate realization that we're all bound together by one driving urge: To just ROCK OUT!
I'm not sure if this one's more counter-cultural or sub-cultural, but it's got a lot in common with similar songs (a couple of which I'll drop in the "Runners Up" section… if you've got more, drop them in the comments and we'll make a totally bitchin' play list).
As a side note, License to Ill was pretty much the first (and perhaps only) time I've been ahead of the curve music-wise. I'd caught Fight for Your Right on MTV at some point and then picked up the full cassette without knowing much else. Listened to it a lot, lent it out to a person or two. A few months later, the Beasties were all the rage, everywhere.
And, of course, no one seemed to remember I'd been there first.
Not that that stopped me from rockin' out.
Runners Up
Twisted Sister, We're Not Gonna Take It – Another classic youth protest song. One that's been used for much deeper reasons than just rockin' out.
Joan Jett, I Love Rock n' Roll– Because, really, how can you not? Most of Jett's stuff falls into the "Turn it UP!" category.
Basil Poledouris, Anvil of Crom – Or, really, the entire Conan the Barbarian soundtrack. What is best in life? Cranking this epic music.
The White Stripes, Seven Nation Army – I just love the beat and the guitar hook, especially when it's loud.