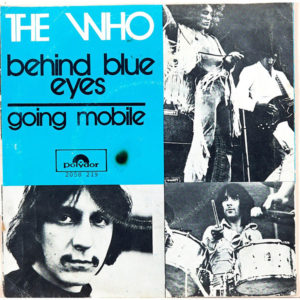 This took me far longer to figure out than I expected it to. That's one of the hazards of not really being a music guy… a lot of songs come and go from memory quickly, only to come back up when something triggers a memory of them. Plus, like I said in the original post, I change my mind a lot about what music is "best" in a given situation.
Anyway, on with the first song of this 30-day thing…
A song you like with a color in the title
I grew up on classic rock and oldies. That was as much a function of my home town being nowhere near the "cutting edge" of culture by the time I came along as it is of the tastes of my parents. Mostly, back in the day, I was "stuck" with what was on the radio (mostly "adult contemporary" with a smattering of pop, and a dedicated oldies night) or what was in the record collection (which, thankfully, was a little more diverse, covering classical, musicals, and a bunch of other stuff).
Try as I might, I can't quite remember where The Who's Behind Blue Eyes came into the picture. I'm pretty sure it wasn't until there was more of a classic rock station on the air in the late 80s/early 90s. Maybe it was in some retrospective on TV before that. Pretty sure the Who's Next album wasn't on the shelf.
The important thing is, by the time I was a teenager, I'd heard it and loved it.
There were times when I wished I could be the villain. When I felt put upon by circumstances beyond my control. When I just wanted to lash out and destroy things.
You know, normal teenager stuff.
And the lyrics of this song always helped assuage those urges.
Because right there was some character who felt the same way.
So I knew I wasn't alone.
Plus the guitar part rocks. Hard. And that's cathartic in and of itself.
Runners Up
So, yeah, there were a few other songs that I almost ran with for this one. Here they are in no particular order…
Jefferson Airplane, White Rabbit – This is one of my favorite songs that was played down the street from my house back in 1969 (a few years before I was there). The imagery is great and the ever-increasing crescendo is just amazing, especially if you follow it with some other great songs of the era.
New Order, Blue Monday – This is another one that came into my life long after it was "a thing" in other places. Definitely a staple of the goth clubs I've frequented since I moved down to the DC area more than a decade ago, so there are a lot of memories and times with friends tied up in that.
The Rolling Stones, Paint it Black – Yeah, y'know all that standard teenager stuff I mentioned above? Same here. And, more recently, it's part of a tradition a friend of mine does every few birthdays. (Yes, it involves a door and paint… it's fun.)
I could go on… but I think I'll be able to use a few of the other ones later in the month…