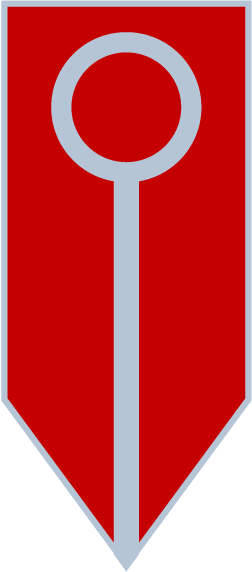 Apparently, it's been a very long time since I've done a proper "State of the Empire" update.
Let me explain why in one word: Chaos.
It has been absolutely crazy around here in the past year or so. Upheaval in just about every direction you look. I've changed apartments, changed jobs (more on that in a minute), and had a lot of things to adapt to in my personal life.
So, while suffering the slings and arrows of "real life", the idealistic realm of Durosia has kind of suffered a bit. Sure I've thrown out some token posts on Toob Talk and The Searcher Journal. Of course I've tried to keep up with things over at How to Crush Without Being Crushed. I've even managed to squeeze some posts out here (and over in the old blog archive). But none of that has come together quite as I'd hoped (yet).
Mostly, things have been changing behind the scenes. Underground, if you will, I've been digging down and building more solid foundations for all of these areas. Things like the migration of this blog to it's own little subdomain and the complete update and redesign of Durosia.com are part of that.
Oh yeah, and I started my own business…
The biggest change has been parting ways (on good terms, of course) with the company I've been working with for the past handful of years. Now I've set out on my own (over at Presence.Durosia.com) to help people, organizations, and businesses focus in and tell their stories in ways that connect with their customers.
That's been a long time coming.
A good hunk of that time has been spent learning about how business can work in the modern, interconnected, world.
See, I minored in business back in college, but that was just as the Web was taking off for the first time (and right before the first web bubble burst). A lot has changed since then. While I've kind of kept up on it (as part of my job), there was always more to learn that didn't quite fit with my day job's requirements.
So I turned to the current experts. The people doing things I was interested in doing. Living lives I wanted to live. People who were out there, breaking new ground, taking big chances, and making the new rules.
Now, as I push to get my own business up to speed, those people's stories are serving heavily as my inspiration and my road map.
I want to share some of that knowledge with you.
Amazingly, the folks over at Only72.com have put together two fantastic packages of books and courses that I would have killed to get my hands on two years ago.
The first package is aimed at those just starting off on their own, a crash course in how not to crash and burn when you launch a new enterprise. It features thirteen courses from well-known online trailblazers like Danielle LaPorte, David Risley, James Clear, Lewis Howes, and others. Topics include how to best make use of the various social networks (LinkedIn, Twitter, Facebook), how to connect with the top people in your target market, SEO techniques, productivity, and the new ways of thinking about (and doing) business that the Internet has given us.
That "business launcher" package is worth over $1000 and can be had for less than $100. Check out the full details.
The other package is more of the same, but bigger. There are 12 more programs from more big names (like Chris Guillebeau, Laura Roeder, Laura Roeder, Ashley Ambirge, and others) that will really help even the seasoned business person do more online (and off).
Each of the courses in the the "business amplifier" retails for well over $100. Plus you get everything from the launcher package, too. That's over $4,300 worth of knowledge and experience. You can get it for just under $500. Go and see for yourself.
There is, of course, a catch…
This deal is only good for 72 hours (and it started selling at noon on Monday). After that, you'll have to bounce all over the web (and pay a lot more) to get all this info on your own. And, trust me, you want this info–it will make your business life much easier (and more profitable).
That not enough incentive? How about if a portion of every sale goes to charity? This time around, the Only72 crew will be donating to The Women of the Americas Sustainability Project.
(And if you really want a more personal reason, if you buy through the links I've given you, it puts money in the Durosian coffers, too… which will significantly help reduce the chaos around here.)
Anyway, that all said, thanks for continuing to come around… even if things are a little dusty and sporadic every now and then.